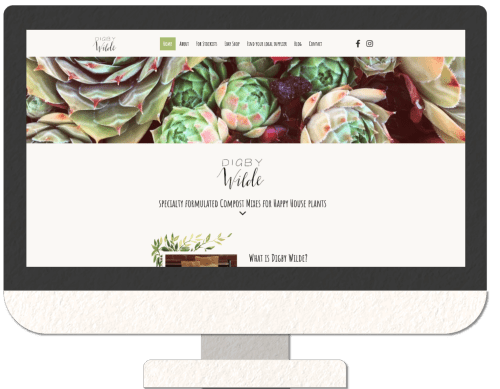 Overview
Digby Wilde is a small independent, with big plans.  Owner Clare turned her passion for horticulture into her own business by developing a range of composts specifically designed for repotting small house plants.  She sells to individuals via her eBay shop as well as supplying garden centres and florists.  Clare is also eco-conscious, using only recycled or recyclable packaging for parcels which are sized to produce as little waste product as possible.  After all, "good things come in small packages".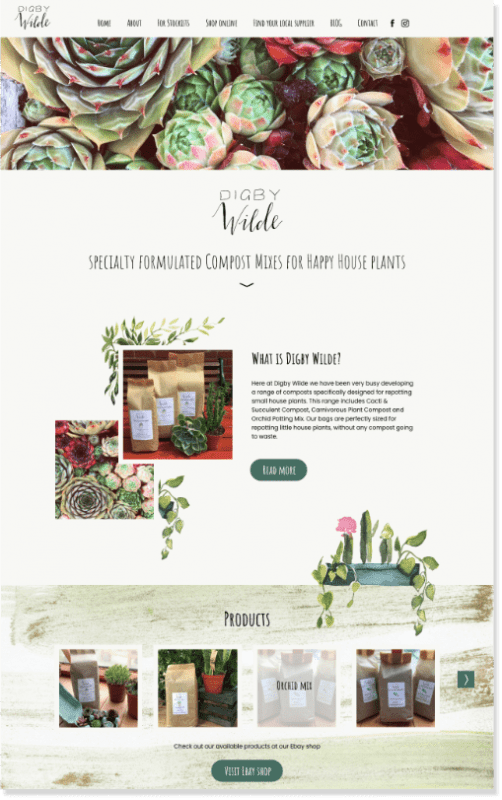 Brief and objectives
Having established a solid customer base, Clare wanted to take her business to the next level and felt that her online presence wasn't as strong as it could be.  Clare approached us with a request to design and build a new website, as well as a set of eye-catching graphics for her social media channels, predominantly Instagram.  Clare was proud of her existing branding (which looked great!) so our job was to bring everything together and to give her an online presence that matched her ambition.
Strategy
For us, this project was all about keeping it simple and conveying Clare's personality in her activities online.  Here's how we did it…
Design
There was already a simple illustrative style to the branding and packaging which we followed through by adopting watercolour illustrations across the site.
The brand is homemade (with love!) so we wanted that to be reflected in the handmade style of the illustrations.
Clare already took wonderful photos of her own stunning plants and shared them with her Instagram following. This made this part of our work a whole lot easier and we incorporated some of the best images across the new website.
We matched the informal font used on her packaging, which compliments the illustrative style.  For the body text, we used a clean sans serif font which contrasts nicely with the handwritten titles.
Colours were kept at a minimum in line with her packaging, which has an 'eco' green throughout and a soft beige for the background.  This gave the whole site a warmth, far better than stark white.
Navigation
The primary objective of the site was to direct visitors to her online eBay shop, which is working well, so Clare didn't want to pursue a full e-commerce site at this stage.  A menu option redirects people to her shop, opening this in a new tab.
Another objective was to attract new stockists; telling them more about her product range and how they can get in touch.  A dedicated page shows off each product and the contact form has already led to new trade!
In line with Clare's environmental credentials, we suggested that she could encourage people to find her products locally via a 'find your local supplier' section and an accompanying map.
The blog page, as always, helps with SEO, but she also wanted to create articles about her compost and plants, as well as sharing her fantastic YouTube videos.