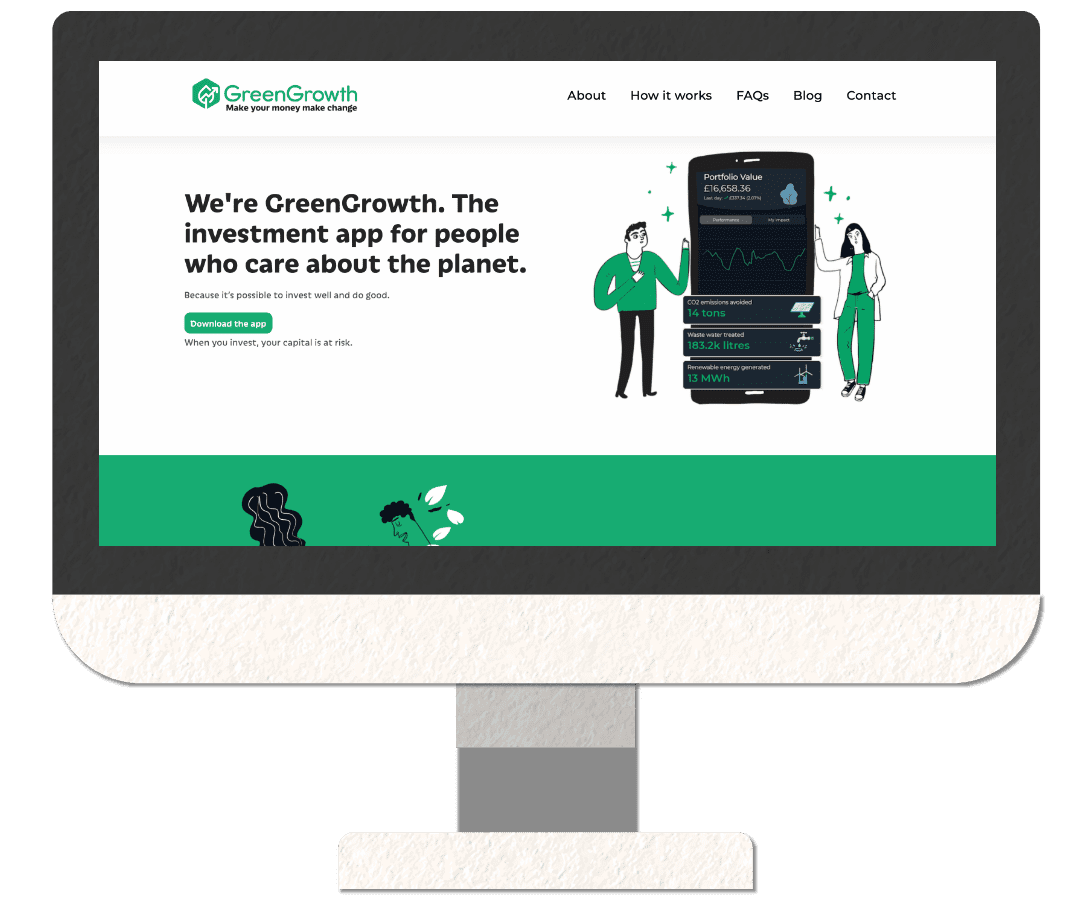 Overview
GreenGrowth are on a mission to empower people to invest for a more sustainable world.  Their new app enables users to invest in a way that is transparent, personalised and positive for the planet. Investments are aligned to 5 environmentally themed funds: clean energy, green transport, the circular economy, sustainable agriculture, and clean water. Users of the app can calculate their carbon footprint via an in-app questionnaire which then weights their investments more heavily into the areas they are most polluting.  Alternatively, they can simply select which environmental themes are most important to them… making their money, make change!



Brief and objectives
We approached GreenGrowth after discovering them online and being blown away by what they were offering; an innovative way of tackling the climate emergency and *potentially* make money.  They'd spent months developing and testing the app and working with regulators to secure approval to launch.  By happy coincidence, they were just turning their attention to what marketing activities would be required when we came along!
The initial brief was to grow a waiting list of potential customers who would be ready and waiting to market to when the app was launched.  However, we soon learned that start-ups like GreenGrowth, who are advised by mentors and backers, need to be flexible and agile in everything they do… which meant we did, too!
So, we were tasked with the following:
Defining a new look and feel for the company, including brand guidelines and a fresh and distinctive tone of voice
Updating their website and social media channels to reflect the above, writing new content to match
Supporting a crowdfunding campaign through the creation of digital assets such as graphics, a video and presentation decks
Launching the app, defining a marketing strategy with corresponding ads, social media activity, website updates… and a bit of PR
Strategy
For the rebrand and tone of voice, we wanted to familiarise ourselves with the market, so we took a quick look at other companies operating in the field of sustainable investments.  Whilst the offerings were similar – and some of their rivals clearly had hefty advertising budgets – it struck us that things felt a little too corporate.  Investing money and tackling the climate emergency are both serious topics, but GreenGrowth wished to stand out from the crowd, which was refreshing to hear… and great for us!
Instead of stark messages of environmental meltdown and the obligatory stock images of wind turbines, we proposed a friendlier approach.  The use of illustration and a touch of humour was integral to this.  It brings both topics to life, makes them more relatable and – we believe – strikes a good balance between traditional investment and environmental communications.
We created website and social media assets which are a mixture of 'does what it says on the tin' introducing the app for the first time, to more provocative messages aimed at their two, distinct audiences GreenGrowth called 'environmentalist' and 'savvy investor'.  The messaging is different as environmentalists may be clued up on the steps needed to tackle the climate emergency, but not that familiar with the world of investments.  By the same token, an experienced investor may not have given much thought to the impact their investment patterns have on the planet… or the financial and environmental opportunities offered by sustainable alternatives.
When it came to paid advertising, we developed a marketing strategy tailored to their budget and got this to work as hard as possible.  We ran relatively short and small tester campaigns for their crowdfunder, which gave us valuable information when it came to promoting the app itself.  Ads were focussed on Facebook & Insta for the environmentalist audience, whilst LinkedIn proved to be more receptive to a more traditional, investor audience.  We also plan to use a proportion of their budget to grow their social media following.