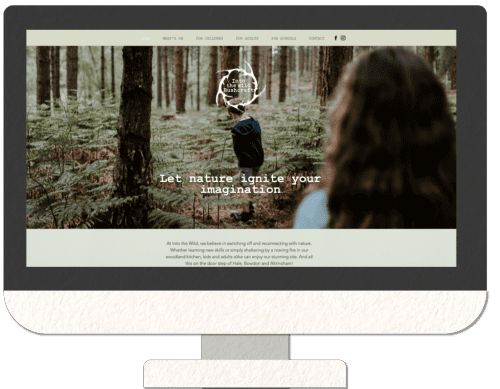 Overview
Into the Wild Bushcraft is a small business that aims to get people to enjoy the Cheshire woodland, through Bushcraft activities and experiences from their site in Bollin Wood, near Hale. Adam Taylor, the person behind Into the Wild (ITW) wants to encourage people to switch off their devices (there's no wifi in the woods!), learn bushcraft and survival skills and reconnect with nature.
ITW runs a heap of activities but has struggled to raise brand awareness and reach out to new customers. Some of their activities include Children's birthday parties, Survival School for children to take Bushcraft sessions on Monday nights, and Into the Wild Experience nights, for adults who want to enjoy food and company by a roaring fire in the ancient woodlands.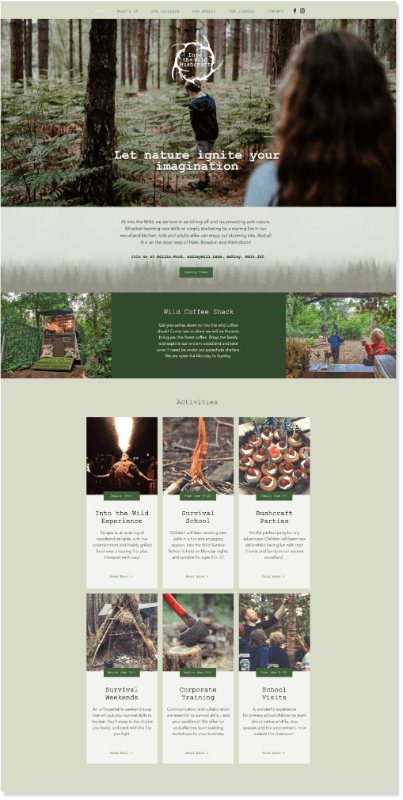 Brief and objectives
We were approached by Adam, because he was struggling to manage all his ideas and convert website views to tangible bookings. He was struggling to update his previous WordPress site and wanted to convert the CMS to Wix, which he's used before. We also identified where there was a lack of information that may have been putting customers off from booking. For us, the website was a priority, and the brief was about making his offering as clear as possible... and much easier to book.
Strategy
We redesigned the site on Wix and focused on the following:
• Address copy so it answers customers questions, with less repetition
• Make the booking process simpler, with the ability to book online or buy tickets for events on the website.
• Introduce more photography of the site and promote their opening times for those dropping in.
• Make it clear which activities are suitable to which age group
The design of the site was to sit alongside the existing brand, keeping it tasteful but also child-friendly with the Hale audience in mind. We introduced colours to differentiate each service, which will be reflected in leaflet, posters and social media graphics moving forward.