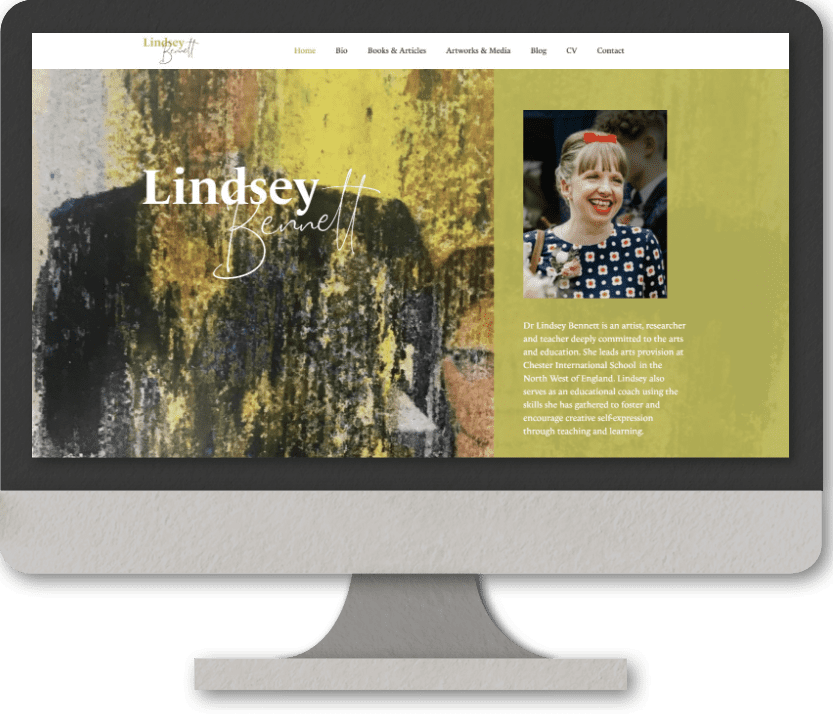 Overview
Dr Lindsey Bennett is an artist, researcher and educator who leads arts provision at Chester International School in the North West of England.  She also serves as an educational coach using the skills she has gathered to foster and encourage creative self-expression through teaching and learning.  Having completed her Doctorate in Education in 2019, Lindsey secured a publishing deal with leading academic publishers, Routledge, culminating in her first book being launched in December 2020.
Brief and objectives
Lindsey wanted the book launch to be a springboard to furthering her career as an education consultant. Following guidance received from her publisher, Lindsey wished to create an online presence to showcase her research and published works, but also to act as a means for people to contact her with work opportunities. She wanted the website to become the hub for her activities and also to provide a way in which she could share her latest work, research and general musings via a Blog.
One of our areas of focus here at A Better Planet is the promotion of education, so we felt that this project was a natural fit.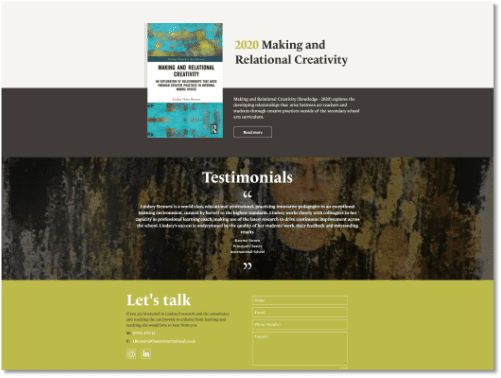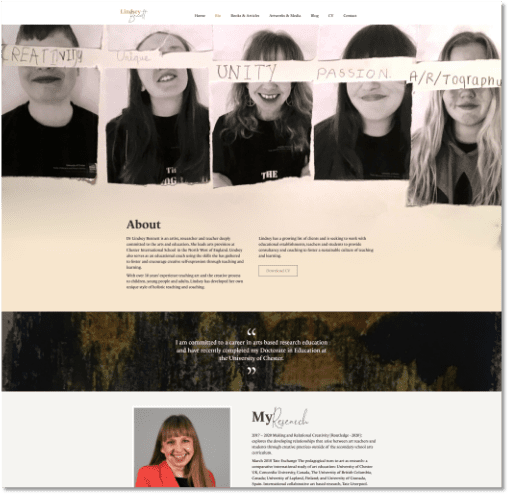 Strategy
As the academic world is specialised, we asked Lindsey to identify individuals she respected and wished to emulate. This was not to copy their approach, simply as a means of establishing which elements of their websites were important to Lindsey.
An altogether different challenge was to tackle the necessary self-promotion. Many people are uncomfortable doing this as individuals, as opposed to businesses. We helped Lindsey re-work written content based on reviews of her book, references from people she has worked with and by making the language of the site third person. This helps to add a layer of professionalism and again, mirrors the approaches of her peers.
As the primary focus of the website is to generate new business, in addition to a traditional Contact page, we felt it important that the contact form appeared across the site, offering as many opportunities as possible for people to get in touch, including links to her social media presence.
Design & Navigation
The design objective was to create a personal, online biography that needed structure with a touch of Lindsey's bold personality and creativity. We devised a simple and easy navigation that guides the user through Lindsey's work, research and articles.
With this being a more text heavy website, we approached the layout similarly to that of a newspaper or book. We used columns to maintain reader interest and to reflect Lindsey's passion for writing.
The colour palette for the website was inspired by Lindsey's book cover artwork. Lindsey's book launch was the initial driver behind the website, so with this in mind the book colours were replicated throughout the brand and web pages. Contrasting with a neutral brown; and representation of art and literature mostly recognised on an original trivial pursuit board.
The serif typography emulates traditional book styles and we added handwritten fonts interlinking with main headlines to personify Lindsey's creative flair. This brand style will be implemented across Lindsey's CV and social media channels moving forward.
Lindsey's artwork has been used as a backdrop for every page on the site. The repetition of pattern and transparent overlays add movement and bring the website to life.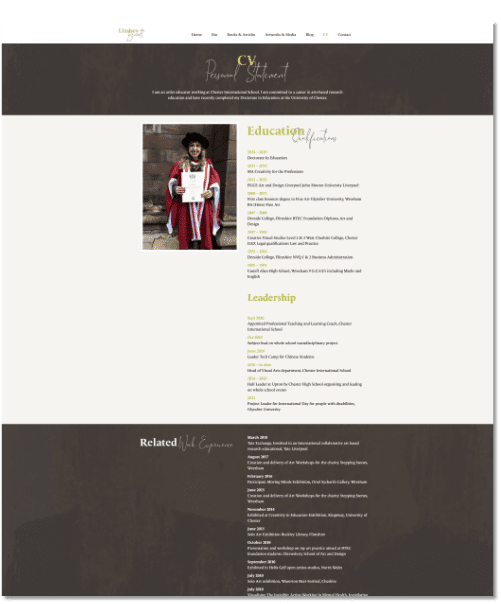 We look forward to supporting Lindsey as she grows this aspect of her work and are pleased to have helped her at the beginning of this journey!