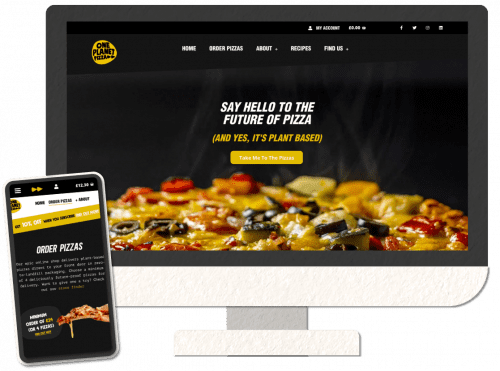 Overview
One Planet Pizza create "Pizzas with Purpose". Their mission is to show people that the future of pizza is plant-based, low-waste and damn delicious! Mike and Joe are the father and son team who founded the company in Mike's garage back in 2016. It's fair to say that things have moved on a fair bit since then and they can now be found at One Planet HQ in Norwich, Norfolk, where they're busy making over 500 tasty, plant-based pizzas every day. In addition to their vegan credentials, they have a real focus on reducing the impact of their operations on the environment. Put simply, they're great people with a great ethos. A perfect fit for A Better Planet.
Brief & Objectives
One of the things we've noticed since launching A Better Planet is that many of our new projects have come to fruition through a certain amount of serendipity. Teaming up with One Planet Pizza is no different. There's a little story which explains the brief, so we thought we'd tell it here…
A friend LOVED their amazing vegan pizzas, but had found their website difficult to use, with a complicated order and subscription process. So, he told them! As luck would have it, they were in the process of reviewing their website with a desire to improve it and to take their business forward, so he introduced them to us! The rest, as they say, is history. You could even say "the planets" aligned (ahem…).
The initial brief was therefore simple: to improve the "crustomer" (love it!) journey to deliver a vastly improved online experience whilst tackling the abandonment rates associated with their old site… but the more we worked together, the more we wanted to do together! The project quickly grew to incorporate a full rebrand to be carried through to a brand new website and packaging design for their full range to ensure that One Planet Pizza were ready to take the supermarket freezer aisles by storm.
Strategy
When we began the project, Veganuary was just around the corner. Not wanting to miss an opportunity, we freshened up their existing site by making some simple, effective changes: introducing new fonts, graphics and banners to make it more visually appealing and working on speeding up the site up considerably. This ensured they were able to make the most of this hugely important time of year for the plant-based sector.
Our attention then shifted to a brand new website. As 80% of One Planet's 'crustomers' use mobile, getting this platform right was critical. We tested out various prototypes in order to improve the usability of both desktop and mobile, making sure the basket and checkout were readily available when customers came to place an order. Ordering became a much more intuitive process with a site speed to match. Building a new site from scratch also enabled us to make more of their story and ethos and to convey their personality via an expanded 'About' section, with a new, engaging graphic style and design elements.
When it came to implementation, as the site was an active ecommerce site with a considerable order volume, we had to be careful not to lose existing customers or their data and transition existing subscribers from the current system to a completely new one. This involved detailed planning, step-by-step implementation, good communication with the client, before a careful overlay of the new features and functions onto the site. With a 2 day period for making the switch to the new site the whole process was completed on time. New email contact templates were installed alongside two new payment platforms and several other back office changes to make the site simpler for One Planet Pizza to manage and to fulfil orders.
The rebrand was the really fun part. Their existing brand identity was already moving in the right direction in terms of social media graphics, but their logo and packaging weren't showcasing their ambition, values and most importantly, their personality. We identified and focussed on the characteristics that set them apart from their competitors and built the brand on simple key principles: One Planet Pizza are challengers, ready to bring a new product into the market and to showcase vegan food in style; they genuinely care for the environment and animal welfare; they are an authentic family business; and their pizzas are actually delicious!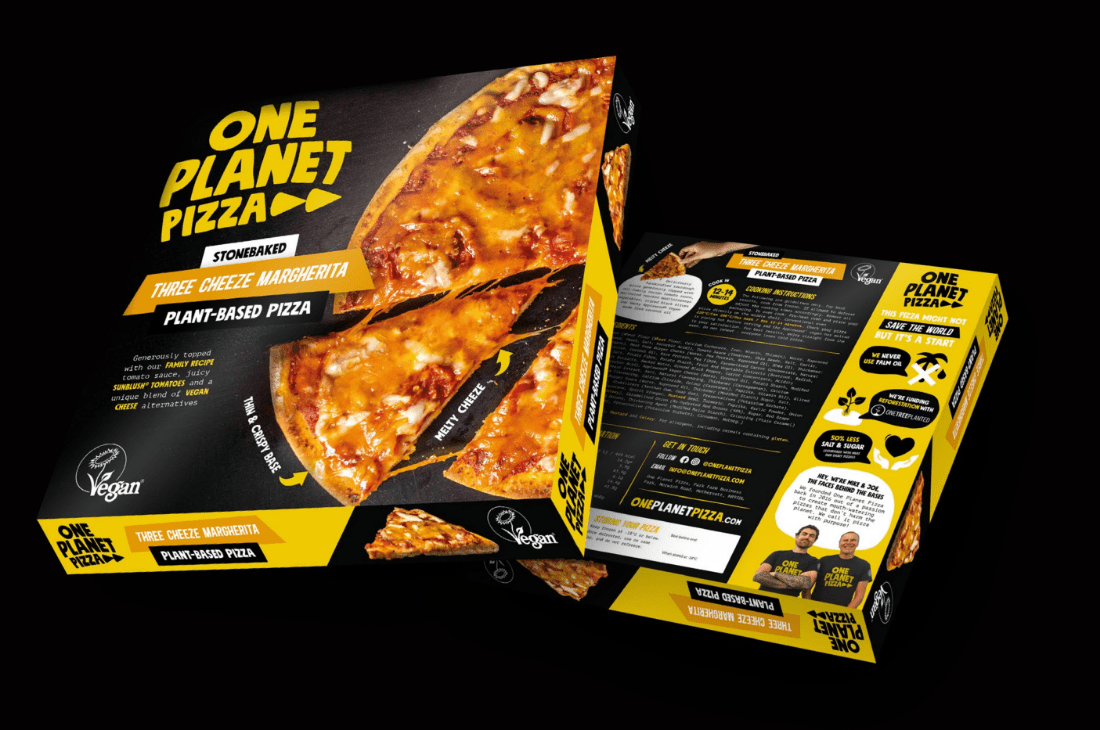 Their tone of voice is playful in nature so they needed a brand identity to match. Their existing planet/globe design was replaced with a logo that hints at a playful, homemade, and 'made of dough' feel! Whilst the accompanying pizza slice graphics represent the fast forward symbol, a perfect nod to their tag-line: THE FUTURE OF PIZZA.
We discussed colour in a lot of depth, and whilst green is often synonymous with vegan brands, our focus was to stand out from the crowd and to make their pizzas look as good as they taste. Boasting vegan cheese that actually melts (who knew?!), it became apparent that a bold cheese-yellow was the way forward, setting it off against a black background for extra impact and creating an even greater contrast to their competitors.
Carrying this through to brand new packaging for the retail sector will ensure their pizzas simply cannot be ignored in the freezer aisle, which is vital when they are literally competing for shelf space. Balancing the new design elements with the need to include other essential content like ingredients and nutritional information was key to getting this right. Again, we worked closely with the team to ensure we pulled out the most important aspects of their new brand.
The new website launched in May 2021 with the new pizza boxes due to appear in supermarkets later in the year. Our work together has led to an ongoing partnership between our two businesses and we're delighted that we'll be continuing to support and work the team at One Planet Pizza as their business grows and grows.
You can check them out here and why not order some of their amazing pizzas while you're there? You won't regret it!