Can coal mining EVER be compatible with Net Zero?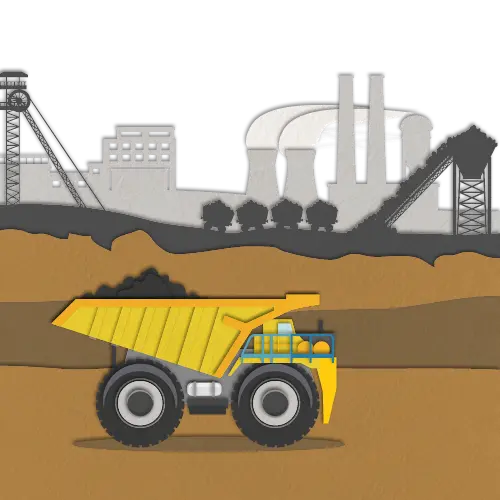 At the recent UN General Assembly, prime minister Boris Johnson warned "it was time for humanity to grow up".
It could be said that his subsequent (and-not-exactly-finger-on-the-pulse) reference to Kermit the Frog was a worrying indicator of his own level of maturity.
In any case, he went on to state that the forthcoming UN Climate Change Conference (COP26) in Glasgow, due to start on 1st November, "must be a turning point for humanity."
Why then, is such a glaringly contradictory scheme, namely the construction of a deep coal mine near Whitehaven in Cumbria, even on the table?
The Public Inquiry into the proposed Woodhouse Colliery ended at the beginning of this month with the Planning Inspectorate due to make its recommendation at the end of the year, or early in 2022.
Our latest blog looks a little closer at this scheme ahead of next month's COP26 summit.
Why do we 'need' a new coal mine?
At a time of climate emergency, with CO2 emissions being a major contributor to global warming, and with many governments across the globe committed to reducing their reliance on fossil fuels, this seems like a pretty obvious question.
To answer it, we must look to West Cumbria Mining who are the applicants for the proposal.
Their principal argument centres on the UK becoming more self-sufficient, in particular when it comes to the production of steel.  This is because they would mine 'coking coal' which is specifically used in the steel industry.  Like it or not, steel is essential for the manufacturing of cars and in construction; two major contributors to economic growth… although each have considerable environmental impacts of their own.
Indeed, it is difficult to ignore our reliance on steel, so such an argument could be seen to be extremely persuasive.
As David Douglass, a Mineworkers Union official and advocate of the scheme highlighted, wind turbines are manufactured from steel, so surely it is better for the environment if this steel were to be 'homegrown'?
Ouch.
What do campaigners say? 
Friends of the Earth have been leading efforts to oppose this scheme, at a local, regional and national level.
Primarily, they highlight the rise in carbon emissions which would result from the project; both during the mining process itself and the subsequent transportation and associated logistics.
They argue that promises of a "major carbon sink" forest scheme, with a commitment to plant more than 250,000 trees a year, completely misses the point on the climate emergency when action is needed right now.
They draw attention to the huge volumes of water used in this process and also claim that coking coal may not even be necessary long-term, with the steel industry already making progress to decarbonise.
To top it off, the PM himself only recently said that "coal should be consigned to history."
Friends of the Earth's press releases summarise the case against.
Economy vs Environment
So, who is right and which side will 'win'?
It would appear to boil down to the age-old argument of the economy versus the environment.
Profit, or planet?
Not so long ago, it was easy to dismiss environmentalists as 'tree huggers' and to hold them out as being anti-progress.
However, with a consensus of scientific opinion pointing to the very real and imminent threat of the climate emergency and even a threat to the future of us as a species, campaigners' voices have grown louder and louder and have become harder and harder for both governments and corporations to ignore.
The UN's Intergovernmental Panel on Climate Change (IPCC) report, published in August, led to its Secretary-General António Guterres stating:
"Today's IPCC Working Group 1 report is a code red for humanity.  The alarm bells are deafening, and the evidence is irrefutable:  greenhouse‑gas emissions from fossil-fuel burning and deforestation are choking our planet and putting billions of people at immediate risk.  Global heating is affecting every region on Earth, with many of the changes becoming irreversible."
You can read the full, sobering statement here. 
In conclusion
Whilst we await the verdict of the Planning Inspectorate, is this really such a complicated decision?
Have we not reached a point whereby building any new coal mine, or instigating any kind of project to extract fossil fuels is completely at odds with where we are at, and where we need to be?
Rather than pursuing traditional, harmful practices, isn't now the time for a green 'industrial' revolution, generating new, well-paid jobs in areas of the country that have suffered from decades of economic decline, ironically, including traditional coal mining communities such as Whitehaven?
It certainly sounds like a more positive path to us.
Indeed, it was our very own prime minister, Boris Johnson who hailed his green revolution and the accompanying 10-point plan, just 12 months ago.
This serves to illustrate one of the major issues facing this scheme and countless others.
We currently have a government and a leader pursuing contradictory policies, which result in conflict and uncertainty around all-things-climate.
End coal! (build a coal mine).
Promote renewables! (cut subsidies).
Champion active travel! (embark on the biggest ever roadbuilding programme).
Look after our green space! (deregulate planning law to encourage development).
The list goes on and on and…
Which leaves us asking the question: what will it take for the penny to finally drop and for world leaders – and our leader in particular – to come up with a set of coherent and consistent policies which create a clear road map to Net Zero.
All eyes on Glasgow next month.
We need our leaders to step up… and fast.
Keep in touch
Thanks for reading our latest blog.  Don't forget to follow us across our social media channels – Twitter, Instagram, Facebook and LinkedIn.