The return of an environmental superpower?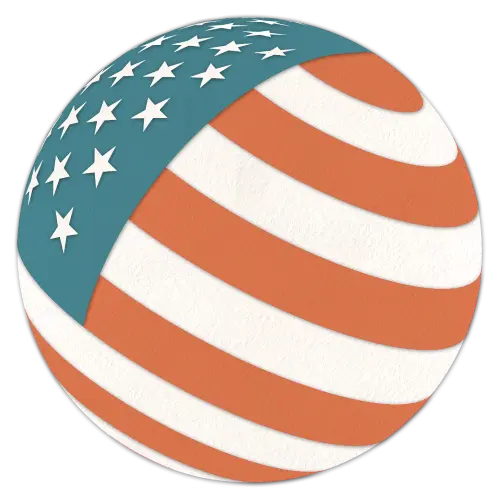 "When America sneezes, the rest of the world catches a cold" is a well-worn phrase used by economists and politicians over the years to illustrate the huge influence the country has on events across the globe.
It also implies that what they do, others follow.
This is one of the reasons the rest of the world looked on in horror as former President and climate-change-denier poster boy, Donald Trump, systematically dismantled the environmental commitments made by previous administrations.  Possibly the highest-profile step came when pulling out of the Paris Agreement on Climate Change.
The adoption of a whole manner of insular, protectionist policies centred around putting "America First" could be loosely translated as "we'll do what we like", no matter the cost to the environment and the resultant damage to the country's green credentials.
Fortunately (for the planet), it took three years for this withdrawal to become law in November 2020, by which time the tumultuous four-year Trump Presidency was about to enter its final, destructive months.
To quote another high-profile American (ok, the fictional Peter Parker-aka-Spider Man), "with great power comes great responsibility."  We don't know if Joe Biden is a Marvel fan, but almost as soon as he took office, he reinstated the United States into the Paris Agreement and it felt as if something resembling normal service had been resumed.
In this blog, we examine if this step marks a genuine commitment to a fight that the majority of scientific opinion confirms is real and whether the U S of A will become the superhero the world needs.
Positive Early Signs
So, how's Joe getting on?
At first glance, it would appear that he has made a good start, with initial action backing up pledges to take climate change seriously.
At the recent Earth Day virtual conference attended by 40 global leaders,  Biden stated he would slash US CO2 emissions in half by 2030, urging all nations to unite to:  "overcome the existential crisis of our time.".  His flagship policy is to achieve net zero greenhouse gas emissions by 2050.  No mean feat for a country that loves a bit of gas-guzzling.
Indeed, he committed to going further and faster than his fellow leaders on climate, encouraging everyone to act.
He also appointed former presidential candidate, John Kerry, as "Special Envoy for Climate" assembling a knowledgeable and talented team around him to deliver on promises made.
However, it hasn't all been plain sailing.  Kerry was ridiculed for comments made to BBC's Andrew Marr when rejecting the notion that Americans need to change their consumption patterns, for example by reducing their reliance on cars, or eating less meat:
"I'm told by scientists that 50% of the reductions we have to make (to get to near zero emissions) by 2050 or 2045 are going to come from technologies we don't yet have."
Responses to this view ranged from 'wishful thinking', to 'overly optimistic', to 'frankly ridiculous'.
Of course, it is true that technology will have a major role to play, but can it really make that much of a difference, without a concerted effort by the administration to encourage behavioural change in its population?
The Ghost of a President Past
Perhaps the biggest challenge facing Joe Biden's policies comes from one of the central principles on which the country is based and what it is to be an American: capitalism.
It is one thing wanting to reduce the country's reliance on fossil fuels, but in practice, efforts to achieve this have meant taking on the oil and gas giants in court.  And that is not going as well.  At all.
Taking one example, it was recently ruled that the Biden administration did not have the authority to unilaterally pause oil and gas lease sales across the US.  Interestingly, the ruling was handed down by a Trump appointee, Judge Terry Doughty of the US district court for the western district of Louisiana.
It would appear that Trump was playing the long game…
In addition, Republicans in congress are now seeking to reign in some of Biden's environmental commitments and green spending plans, with the administration reportedly considering a slimmed-down version.
Perhaps most concerning of all is that some have accused the new administration of mixed messaging.  Approval of certain fossil fuel developments on political, rather than environmental grounds has raised eyebrows among campaigners.
This article from the Guardian offers detailed analysis of all the above.
In Conclusion
In politics, there will always need to be an element of compromise.  Unless your name is Donald Trump.
It is clear that Biden needs to tread carefully if significant, long-lasting change is to be achieved at the pace that is needed.
If resistance continues, perhaps he should be considering taking a bolder stance?  As we have seen, Presidential Executive Orders can be ripped up by successors (take 'Obamacare' as a prime example), but Biden is right at the start of his presidency and do we really have the time to wait?
Whatever the outcome, action cannot come a moment too soon, given the huge role the US plays in contributing to climate-wrecking emissions, as this startling graph created on Our World In Data illustrates.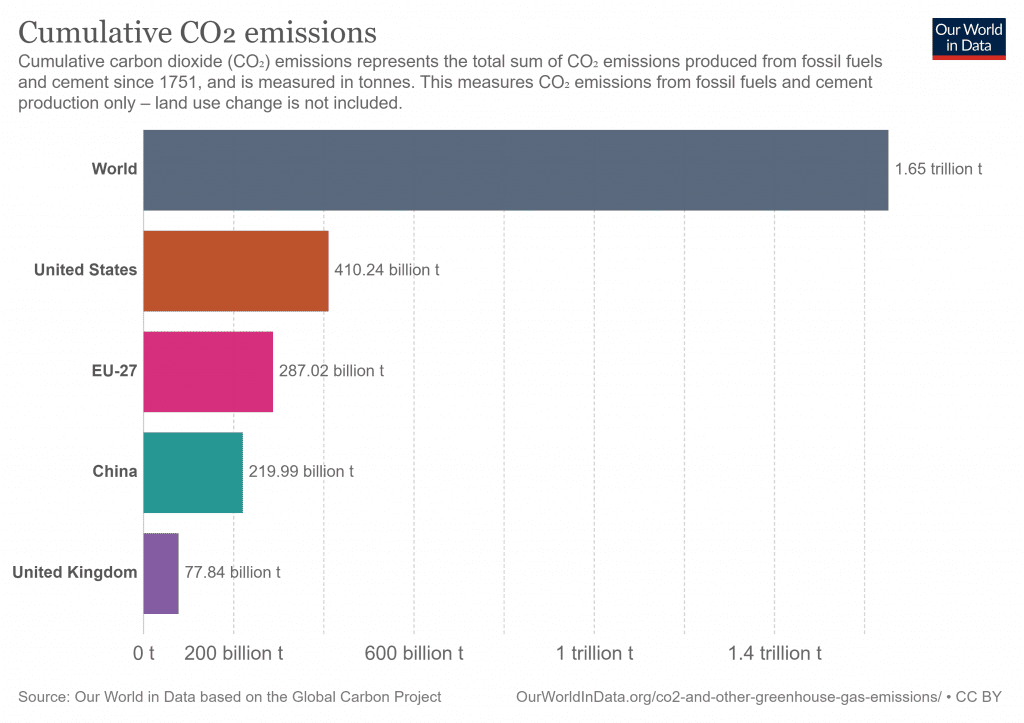 Over the last two and half centuries, America has most definitely been a world leader on 'climate', but for all the wrong reasons. Let's hope it now leads it in a much more responsible manner…
Keep in touch
We welcome well mannered, informed and reasoned debate on this or other areas we are passionate about as we all strive to become A Better Planet.    Please follow us across our social media channels – Twitter, Instagram, Facebook and LinkedIn.